Branch of the "Hechalutz-Hamizrachi" in David-Horodok.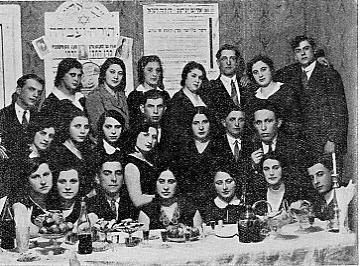 Sitting (right to left): Shmaryahu Ziporin, Mashah Dobrowitsky, Sheindel Kitayen, Yaffah Chaver, Simchah Chaver, Shoshannah Lichtenstein, Le'ah Ziporin.
Standing (first row): Mosheh Dreizin, Pinyeh Schreivman, Tovah Shulman, Baruch-Yankel Lichtenstein, Channah Makler, ? Lichtenstein, Channah Baruchin, Merl Yudovich.
(Second row): Gudel Wager, Miryam Gloiberman, Motl Dobrowitsky, ?, ?, Sonyah Baruchin, Freidel Zepsman, Micha'el Lichtenstein.
---