The Hitachdus organization (The Union, or literally, "Organization H") branch in David-Horodok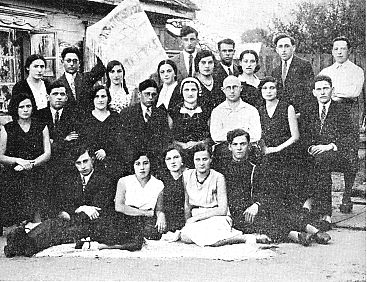 Sitting, first row, right to left: Yitzchak Olpiner, Brachah Lutzky, Le'ah Schostkowsky, Zviyah Rapaport, Chayim Basevich.
second row: Avraham Toplinky, Le'ah Teitelbaum, Avraham Olshansky, Rivah Moravchick, Chayah Dorzin.
Standing: Motzny, Me'ir Rapaport, ?, Mosheh Ronkin, Zviyah Ziporin, Yehudit Katzman, Rachel Stoffer, Shlomoh Shapira, Miryam Basevich.
---